I have recently returned from the largest board game fair in the world. A wonderful festival of consumerism in its purest form, because it focuses on luxuries that are in fact toys. The question is, if the possibility to cherish the child inside us is worth all the money? Is it worth to participate in this cyclical event? — Yes, definitely yes.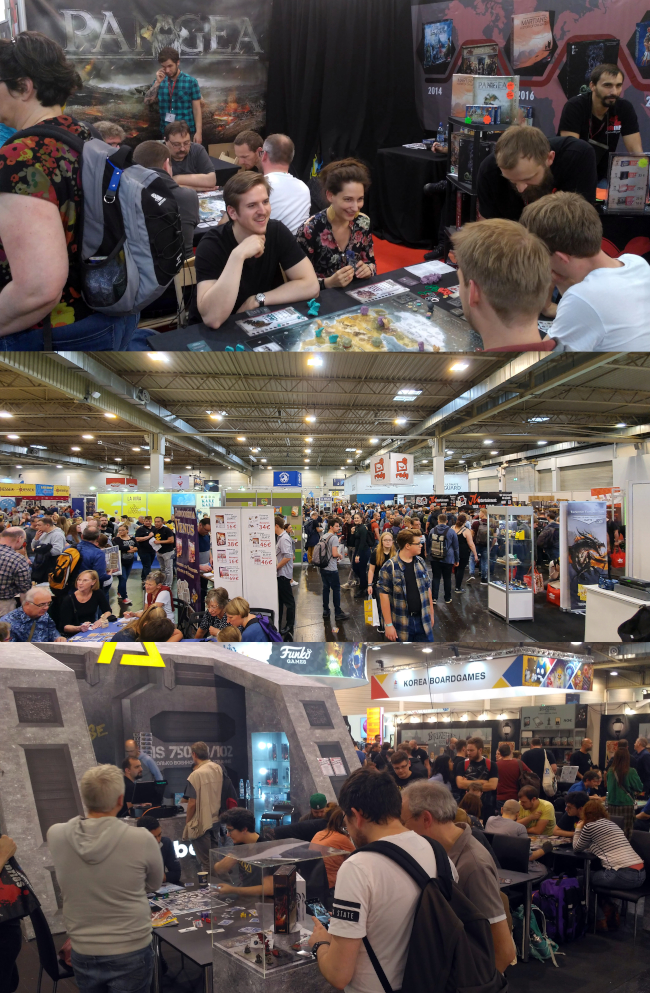 "Internationale Spieltage SPIEL" made its debut in 1983. Every year since then, more and more exhibitors and participants have gathered around it. This year, the event organized in Essen gathered 209,000 participants, almost 1,200 of which are exhibitors presenting their games. The whole thing lasted from 24 to 27 October, the halls were opened daily at 10 and closed at 19. As you would expect, 36 hours for checking and playing everything you would like to see, is not that much …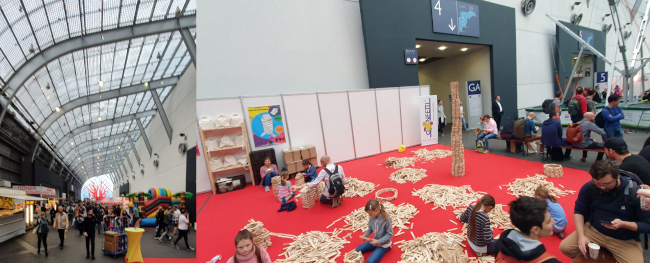 The whole enterprise covers 110,000 square meters of the marketplace established in 1913. 6 out of 8 halls were cut by exhibitors' stands into corridors, filled with everything you could expect from a fair related to board games. Exhibitors, in addition to standard stands, often tried to make their stands correspond with the games that were being presented. Almost everywhere, you could play a showcased title.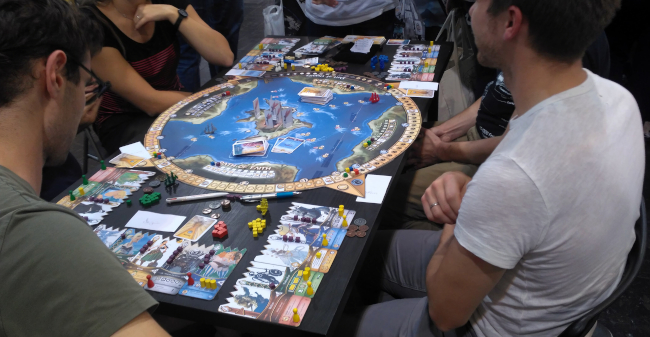 Entering Hall 3 from the underground car park for the first time, I experienced a huge WOW, the view was breathtaking. I felt like an 8 year old in the largest and most wonderful amusement park I could find myself in. The impression was so moving, that you don't know what to do, you would like to be in 10 places and do 20 things at once. Fortunately, the event organizers help you recover and find yourself in all this. The most important piece of equipment that you just have to have with you, is the catalog. Before the event, it was available in pdf form, and a nicely published version was available at the fair for participants — makes life there so much easier. The location of each exhibitor is marked on the plan of the fair, the whole catalog is very readable, in addition, in many places of the fair itself you also have boards and signs to help you find yourself on the plan in the catalog.
I wish there were more people in the world like board games fans. Imagine 209 thousand people walking through these halls for four days. Buying games, playing them, probably talking about topics related to them. Every day, taking over 15,000 steps, I saw nice, polite participants of the greatest hobby in the world. Nobody tried to barge anywhere, if you wanted to buy something, like others, you took the product and politely looked for the end of the queue. You wanted to ask something, all you had to do was wait for someone to take care of you. Everyone automatically adjusted the pace of movement to the rest. People were letting each other through doors with a smile.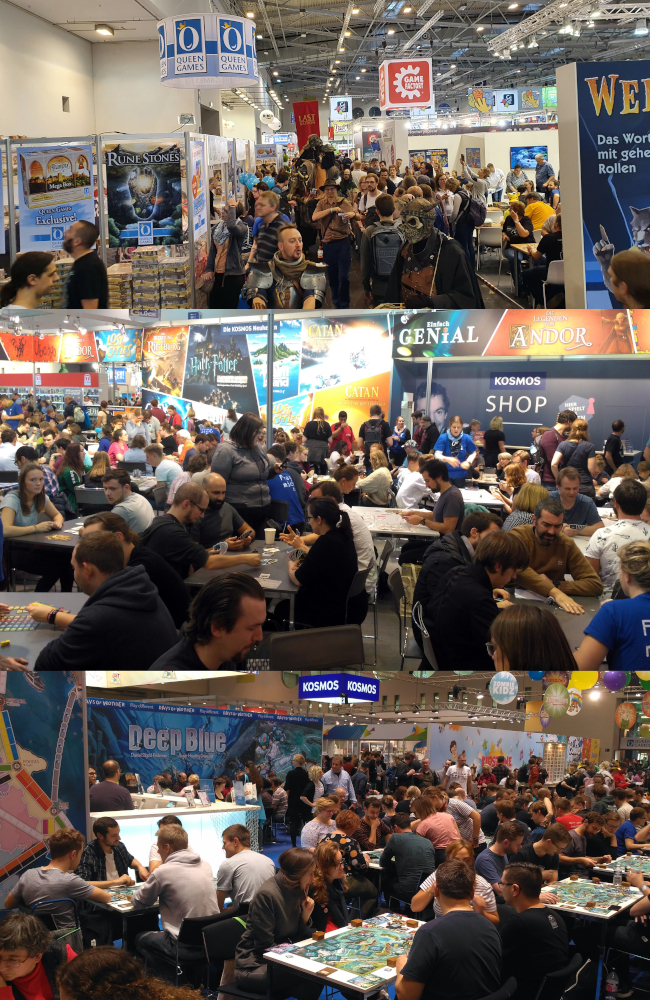 Sitting down to play test some game with complete strangers you could talk about something interesting. Some games were so crowded, that it was hard to find a place to play them. But nobody rushed anyone, while waiting for the table, people learned the rules, helped when, e.g. they noticed that you missed something and just talked to the players about their current gameplay experience. When someone finished playing, I always saw that they were trying to prepare a game for the next people thus helping the staff.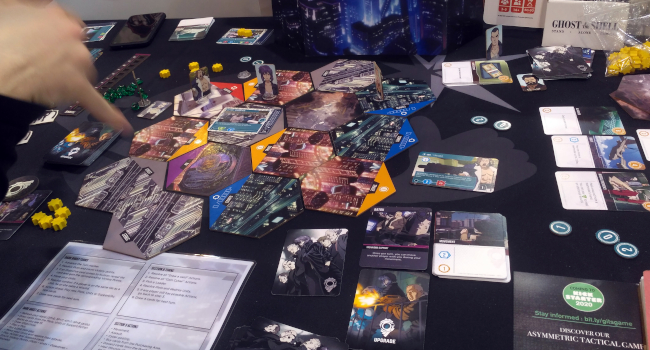 As a participant of this fair, you will also have the opportunity to talk to the creators of your favorite titles. And it's amazing when you can ask about the details of the process of creating a given game, or play it with its creator.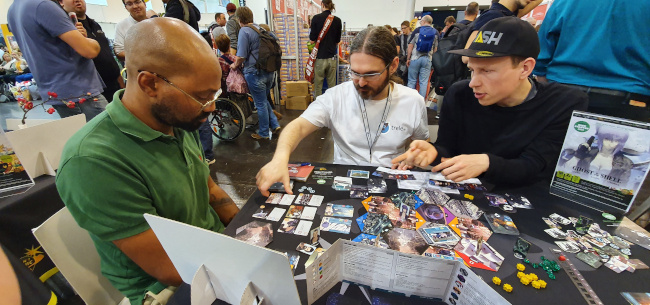 The casual atmosphere helps a lot, during your walks you will also meet your favorite reviewers. It's always nice to say a simple "hello" and congratulate someone on his contribution to the hobby.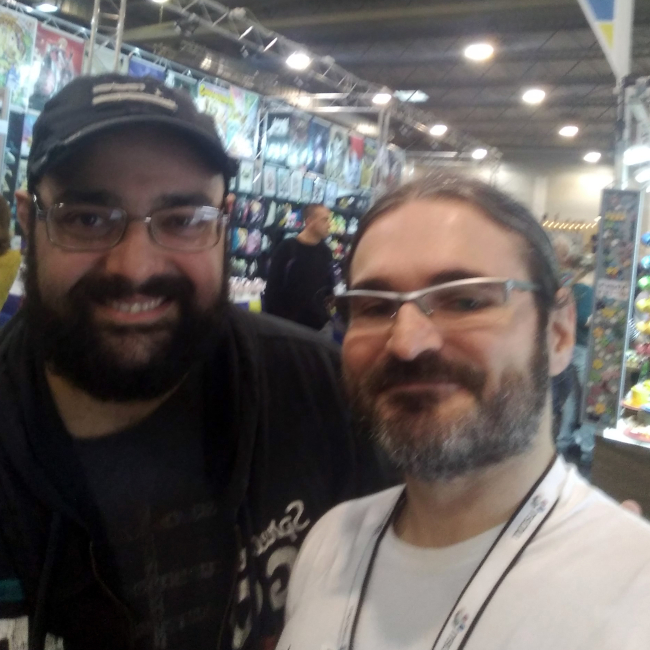 The technical service of the fair itself worked great, professionalism in its purest form … and I don't need to look too far for example. When we accidentally drove down a one-way street to the wrong parking lot, and realized what happened too late, the staff was able to allow us to leave it in just a few minutes, despite language barrier and the huge queue of cars waiting behind us.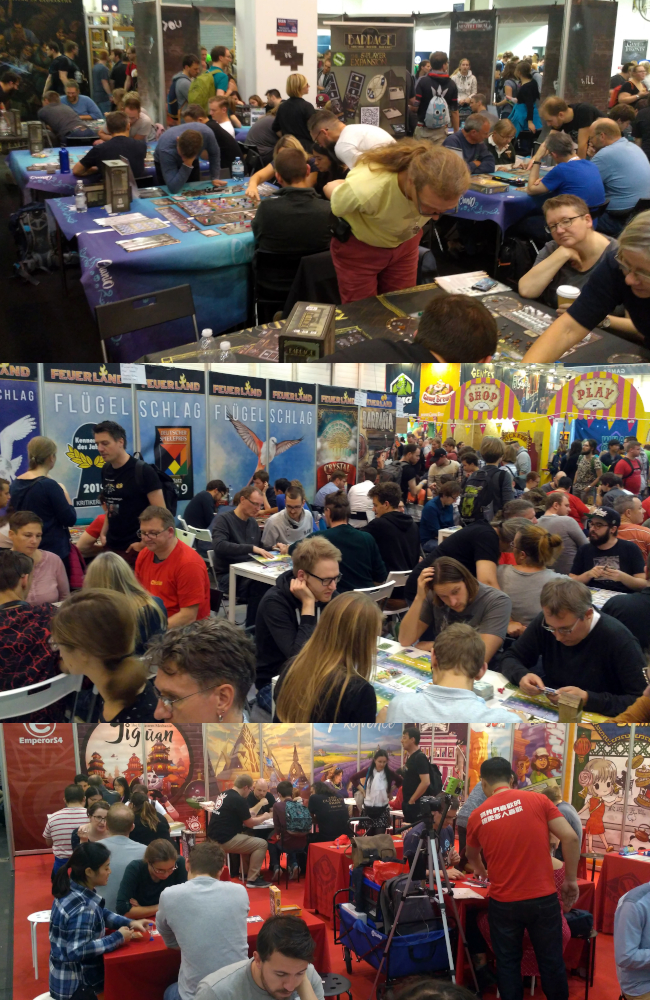 The level of culture represented by fans of our hobby, in times when in classic and social media, generally, you can see a lot of tension and negativity, fills me with enthusiasm. In addition, because of the fact that people creating games are the same hobbyists as we, it makes everyone feel more included in this fandom. It is quite obvious, that there may be black sheep everywhere, but it would be extremely nice if in other areas of life people behaved like they do here. Most people who know me, tend to think I'm a cynic, generally skeptical of people around me. I am mentioning it to give you a broader picture of the weight of the opinion I have about Internationale Spieltage SPIEL. This is not an ordinary fair, SPIEL is a festivity of board games, joy and positivism.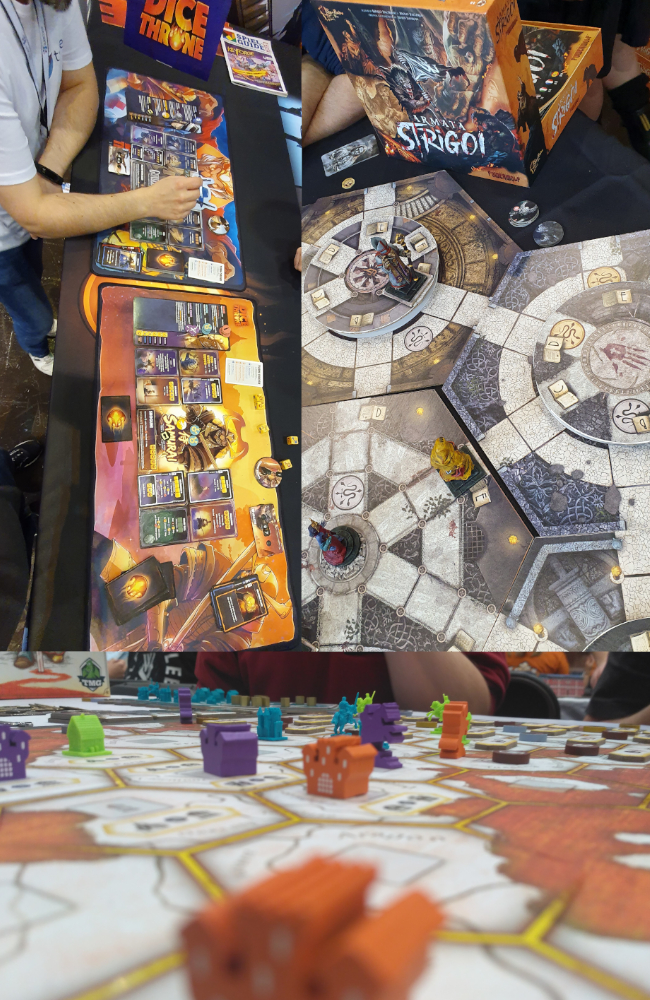 It was my first trip to this event and what I took out of it, was the belief that every fan of board games should go there at least once in their life. Therefore, I wanted to share with you how I prepared and made my journey there, hoping that it will help you and encourage you to make a decision about your own journey for the next editions of Spiel.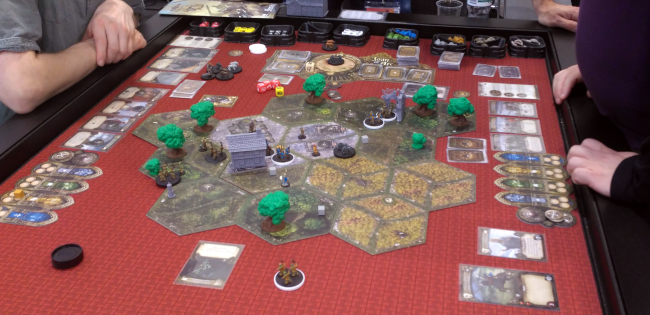 Resources, in principle, this will be the most important determinant on later decisions. You must think hard, about how much you will be able to spend on each individual element. I tried to pick everything out in a way that would allow me to keep as much money as possible for games. In addition, it would be better if you could go there with someone, it is always easier with a friend, and part of the costs can be divided between you.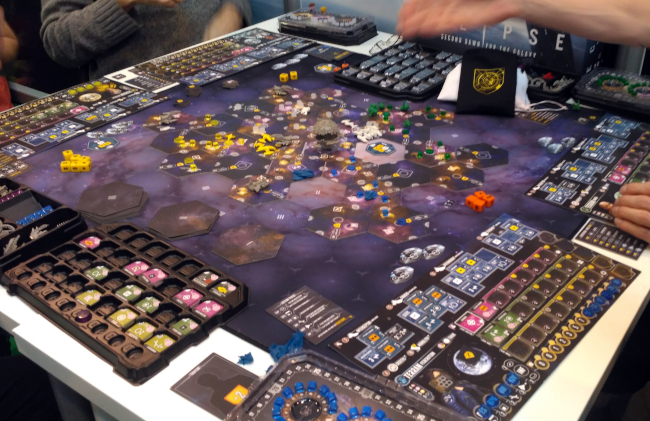 Contrary to expectations, the first thing you need to think about is not how you will get there, but where you are gonna sleep … the sooner the better. By "sooner" I mean January and February, I missed those months myself, and in March places near the fair were already either inaccessible, or very expensive. After a long search for a reasonably budget option with good communication to the fair, I picked the option of renting a room in Herne, via Airbnb — the cost for two people from October 23 to 27 was about 110 EUR. By car or subway, the fair could be reached in about 25 minutes. You need to add to this the cost of a 4-day admission ticket to the fair, which in pre-sell is at 39 EUR.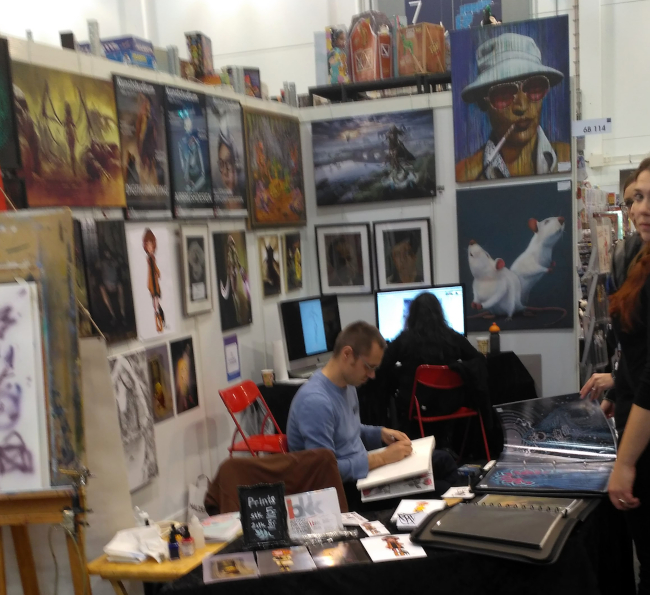 For mode of transportation, we chose a car, the faithful Citroen C3 quite economically rushed through expressways and highways, burning just over 4.5 liters of diesel per 100km — the cost of fuel for the trip was about 140 EUR. Although the one-way route took us about 13 hours with stops, but 1100 km turned out to be more intimidating on paper, than it was in reality. What tired us the most during the trip, was the monotony of the road. The views outside the window can impress, but the white stripes running under the wheels overwhelm.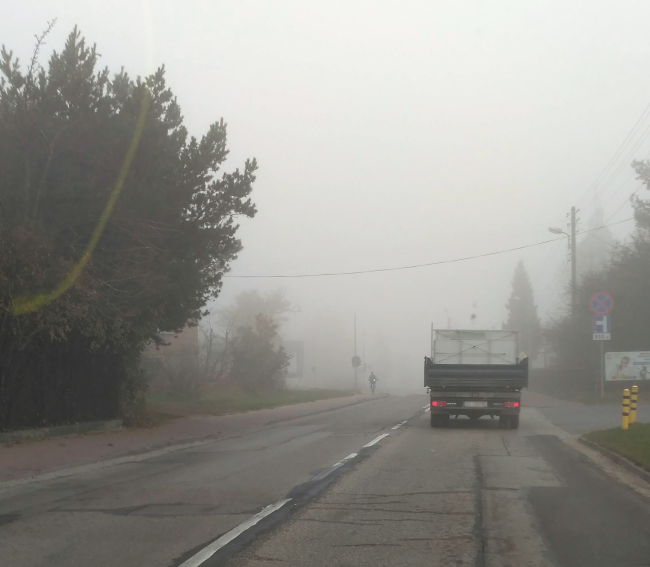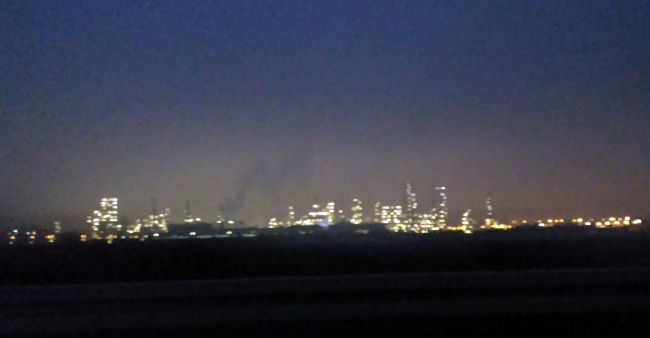 Thanks to choosing the car, we practically did not feel the distance of our accommodation from the fair, in addition we did not have a problem with boxes of games, that otherwise we would probably have to carry with us, or leave in a place available for an additional fee at the fair. Important note to people who would decide to travel by car, always try to familiarize yourself with the traffic law of the country, in which you will be. A lot of places in Germany, including Essen, are covered by ecological zones (called Umweltzone) and cars entering them should meet certain standards. As proof of compliance with the standards, you should have the Dekra sticker based on the vehicle's registration. The cost of this sticker varies depending on the place of purchase starting from 7 EUR. In addition, you need to keep navigation below the windshield line — some of the gadgets that help along the route may limit visibility, if it restricts it too much, you may get a traffic ticket during the check. As for the navigation itself, I recommend google maps, because they do not reveal the places where speed is controlled, which is also punishable. Let's just follow the traffic rules and everything will be fine. Driving culture in Germany is very high, even larger traffic jams were able to discharge before we could reach them. To the costs associated with the vehicle, you have to add the cost of parking at the fair, a day ticket is 6 euros. There is a lot of available space for cars, despite the huge interest in the event.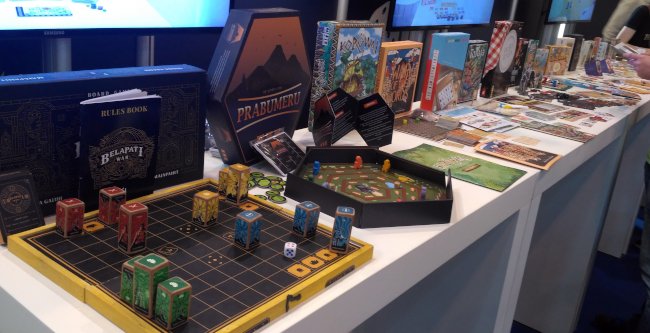 Nourishment — best to take it with you, I recommend dry food or instant food that only requires boiling water to become edible. My choice is motivated by my assumption, that it's a shame to waste time on eating when you can be playing something instead. Anyway, if you get hungry during the day, you can always eat at one of the food trucks located in the gallery or between the halls. There is also a restaurant at your disposal, where you can sit down and devour a pizza.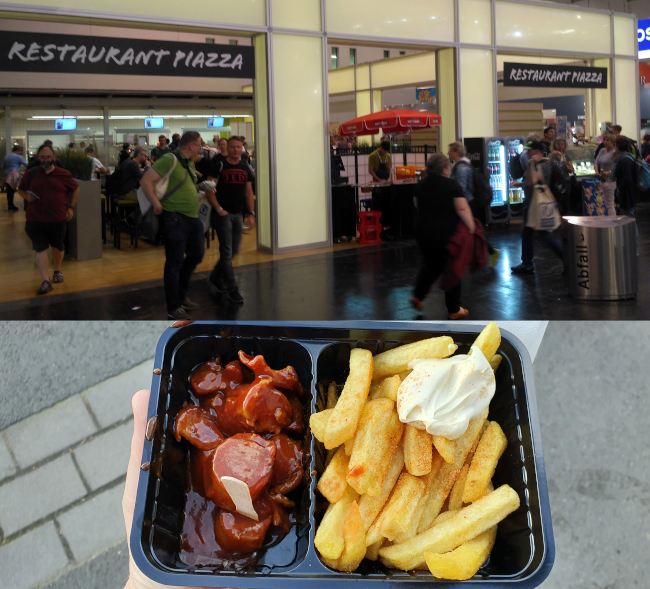 Time for the main course — games. The quantity is overwhelming, following the corridors formed by the stands you will find practically everything possible. Generally, I have the impression that by shopping in Essen, you are able to satisfy your hunger for titles to play, until the next trip to SPIEL. Prices will not be much lower, than those you have in local stores, it is rather about the opportunity to buy games earlier, due to the premieres and promo add-ons that are hard to get later. Of course, there will be interesting offers for games, usually cheaper by up to 25% of their store value. Sometimes the price will also fall, because you are buying a bundled game with add-ons and expansion packs.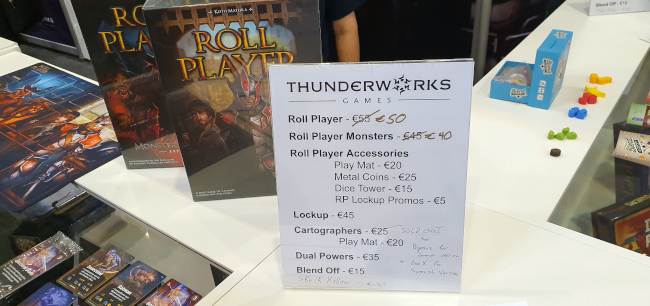 Before the fair, there is usually a catalog of titles along with the estimated prices, so you will be able to determine how much you have to take with you. From what I noticed, it's good to have somewhat between 350 and 500 euros, although I had less. You don't have to spend everything, but it will give you assurance that you're not coming back empty-handed and secures you in the face of unforeseen expenses. Regarding titles that are worth paying attention to, are in my opinion those that will be harder to get on your domestic market. A game that you have 100% certainty of appearing locally, in my opinion, can wait.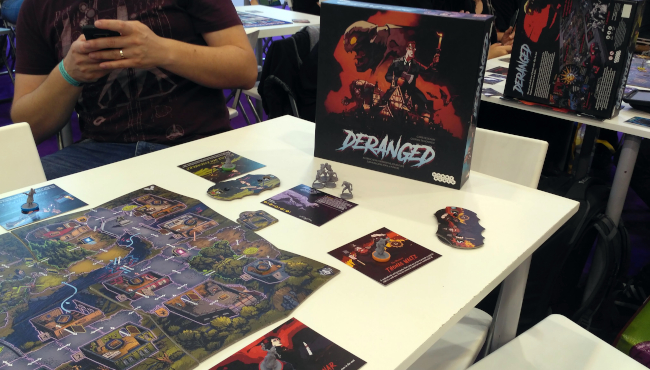 A very important matter regarding purchases — at this fair, cash is your go to payment method, although there are more and more stands with portable terminals. You also shouldn't count on ATMs, each year you can hear warnings that after the first day, every ATM within a short radius of the fair is thoroughly cleaned and probably won't be filled up until next week.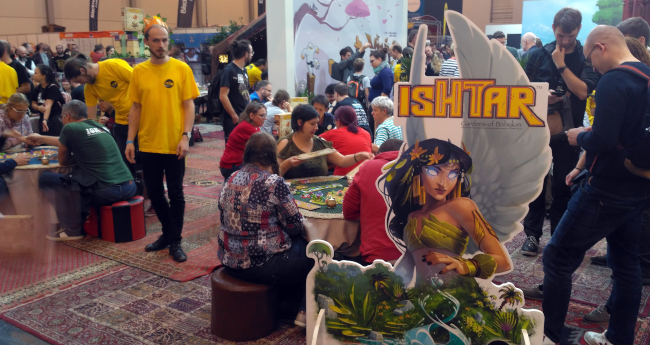 After counting all travel and shopping costs incurred, this trip cost, in my case, around 500 euros per person.